Silena - 29 / Oct / 2018
How to choose the right squash ball?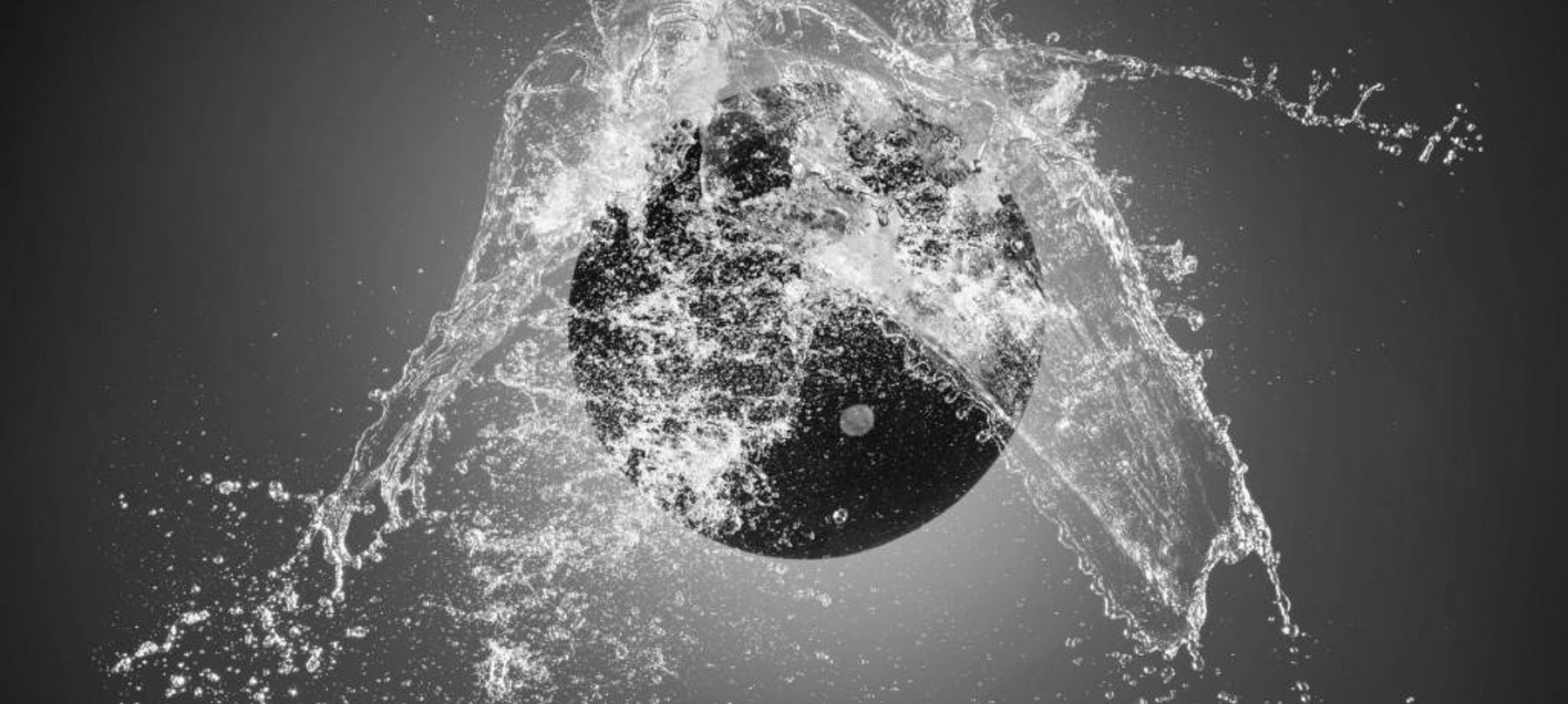 One or two dots? Yellow or red? If you've just started squash, all those different squash ballscan confuse you. In most sports there is only one type of ball, suitable for everyone from beginners to top players. For example in tennis, a beginner plays with the same ball as Rafael Nadal. In contrast, in squash there are several types of balls, but the reason is not to confuse players but to make sure that everyone, regardless of their level, can play long rallies and have fun on the court just like advanced players. Beginners´ ball makes it possible to have decent rallies from day one, while in other racket and ball sports you must have had lessons before you can play a nice game.

In this blog we explain what types of squash balls exist and which one best fits your level and playing style. It´s very important to choose the right ball if you want to have a good game. Unfortunately in most squash centers they only sell balls which are meant for very experienced squashers, the ones with a double yellow dot. This squash ball doesn´t bounce a lot unless the players have the sufficient technique to warm it up and keep it warm throughout the game by hitting hard enough. Because a beginner naturally doesn´t have the technique to hit the ball hard, the bounce is so slow that the ball "dies" immediately and the rallies don´t last more than a couple of shots. When this happens, beginners obviously think that squash isn´t their cup of tea and give up. This is a shame and simply lack of information because even if it´s your first time on the squash court you can play long rallies and have fun on the court as long as you choose the right ball.
What type of squash balls exist and what are the differences?
Dunlop, the most important brand in squash balls, makes six different types of squash balls. Four of these are suitable for adults and two for children. The balls for adults are always black and have one or two coloured dots. The difference between these balls is in their size and bounce. Your level determines which ball is the most suitable for you.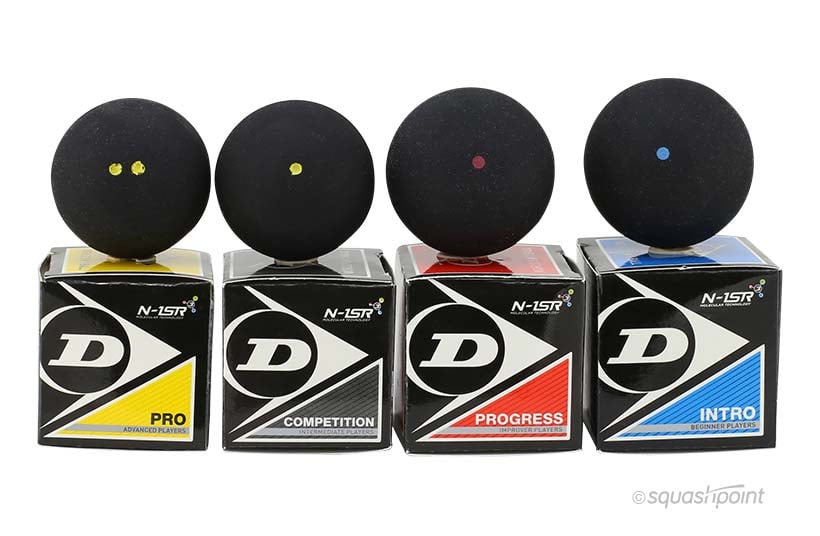 The squash ball with a double yellow dot is called the Pro. It´s suitable for very advanced players – and it´s the one squash centres most commonly sell. The Dunlop Pro Squash Ball is the official ball at all national and international tournaments. The Pro has the lowest bounce and requires a good technique by both players. The ball with a single yellow dot is called the Competition Squash ball. It´s the best choice for quite an experienced player. The Competition Squash ball has the same dimensions as the official Pro ball but it bounces 10% more. This ball can also be used by advanced players in training sessions and especially in cold weather conditions. The temperature on the court influences the bouncing qualities of a squash ball: when it´s very cold, it´s a good idea to choose a ball with more bounce even if you´re an advanced player. The ball with a red dot is called the Progress Squash ball. It´s ideal for recreational players. This ball is 6% bigger than the official Pro match ball and bounces 20% more. This gives you more time to hit the ball. Finally, the ball with a blue dot is the Intro Squash ball. As the name suggests, it´s designed for beginners. The Intro is 12% bigger than the official Pro match ball and has 40% more bounce. This gives you more time to play the ball back, and to keep a rally going is a lot easier. As for the balls for children, for the little ones there is the Mini Squash Fun ball. It´s designed for young players from 5 to 7 years old. It´s red and has no dots. This slow ball with a very high bounce is ideal for the little players to get acquainted with the sport in a playful way, naturally under supervision. The Mini Squash Play is an orange ball without dots designed for children between 7 and 10 years old. With this ball, children continue to develop their skills in a playful way. The diagram below clearly shows the difference in the bounce of the balls.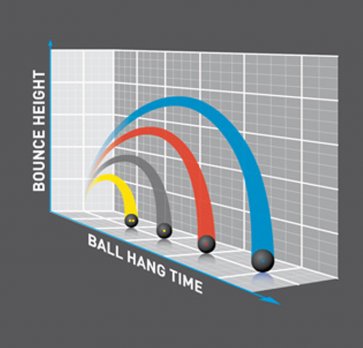 How do I choose the right squash ball?
If you´re a newcomer in squash, our recommendation is to get started with the Intro Squash Ball. It has the highest bounce and doesn´t need to be warmed up before you can start the game. As you improve a little bit, you can change to the Progress Squash ball. When to do so is a matter of trying out. You´ll notice quickly whether you are ready for a slower ball with less bounce.
Why does a squash ball have to be warmed up?
Squash balls need to be hit warm before you can start the game. If you just start the game straight away, the ball won´t bounce enough to have a good game. The warm-up is done by hitting the ball against the wall for a few minutes. As a result, the air inside the rubber ball gets warm and the pressure increases, causing the ball to have a higher bounce. The Intro Squashball for beginners doesn´t need to be warmed up at all – with this ball, it´s possible to start the game straight away – and the Progress only requires a very quick warm-up.
Are there differences between the brands?
There are actually big differences between the balls by different brands. The main differences have to do with the lifespan and playing characteristics of the balls. Dunlop is known for producing balls of the highest quality. They have an unrivaled performance, consistent bounce and long lifespan. In addition, with a Dunlop squash ball you always have the perfect ball feel.
How often should I replace my squash ball?
Our customers often ask us how often a squash ball should be replaced. There´s no written rule for this. After using the same ball for a while you start noticing that it´s not behaving in the same way as before. Squash balls consist of two rubber halves that are put together. Over time, air gradually escapes from the ball, causing the pressure inside to decrease and the ball to lose bounce. When you notice that the ball has stopped to bounce enough to have a good game, the time has come to take a new ball. How often you have to replace the ball depends of course on your playing style and how often you play. Players who hit the ball hard need to switch to a new ball sooner. In any case, it´s recommendable to always have a few new balls in your squash bag.
Squash balls are available individually, in a handy tube, a 3 pack or in a box. Every ball is packed in a small cardboard box. Only the Pro and the Competition Squash balls are available in tubes. There are three balls in a tube. Many players like to buy a tube because you can store the balls in an orderly and protected way after use: they stay clean and you can easily find them in your racket bag. In a box there are 12 balls, each one of them packed individually in a small cardboard box.
You may also be interested in the following articles:
The difference between the Dunlop Pro and the Dunlop Competion Squash balls
The right squash ball for the cold winter days